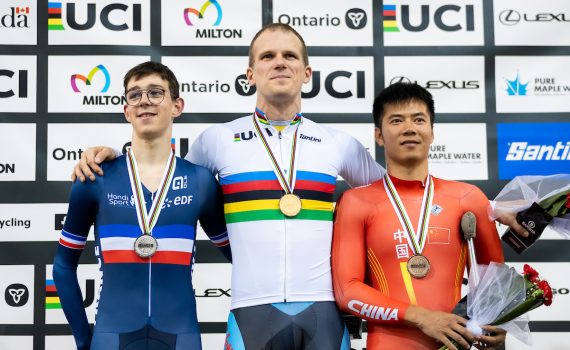 30/01/2020 – WORLD CHAMPION !
On Thursday morning, there were firstly the qualifications of the Individual Pursuit. The 4 fastest riders go through to the finals, and will battle for gold, silver and bronze. I had to go quit early, in the 2nd heat (of 8 heats), against the Moroccan rider Mohamed Lahna. Everything went well, and halfway the race, I could overtake my opponent. I managed to ride the planned lap times, and I finished in a new WORLD RECORD of  3'36,961″ !
Of course, I was super happy with this time, but it was too early to celebrate… 6 other heats had to be ridden, with all the favorites. But one after the other was slower than me. Also defending World Champion Darren Hicks, didn'twas manage to beat my time, and he finished eventually 3rd in the qualifications. It was the young Frenchman, Alexandre Léauté, who became 2nd and who I had to fight with for gold in the final. His time was 3'38,491″.
Now, back to earth…! Time to go to the hotel, and to rest and recover as much as possible. Having stress is obvious now, but I was able to stay calm the whole afternoon, and I could even have some sleep. I felt really good, and I returned with confidence to the track in the evening.
Firstly, the Chinese Guihua Liang and the Australian Darren Hicks rode the final for bronze. They are both former world champions. It was the Chinese rider who won it.
My turn now! Against the Frenchman Alexandre Léauté.
From the start, my legs felt heavier than earlier that day during the qualifications, but afterwards, my first lap turned out to be faster than my starting lap in the morning… 🙂
Everything went perfect, I managed to ride the same lap times as during the qualifications. Obviously I felt the fatigue and the pain, but with adrenaline and persistence, I could suppress it. My start was slower than the Frenchman, as expected. So I know I have to catch up. My trainer Remko shows me as of lap 8 (of 12 laps) how much I'm ahead or behind. We are equal! That means that my pace is faster than his. In the next laps I can build up an advantage. If I don'twas slow down, I can win this… I push until the finish line, and… new world record, 3'36,322″… I'm the new WORLD CHAMPION !
This is how I celebrate it with my trainer Remko: https://www.youtube.com/watch?v=oQ6quKslicY
The results can be found here, on "Thursday", category "Men C2".