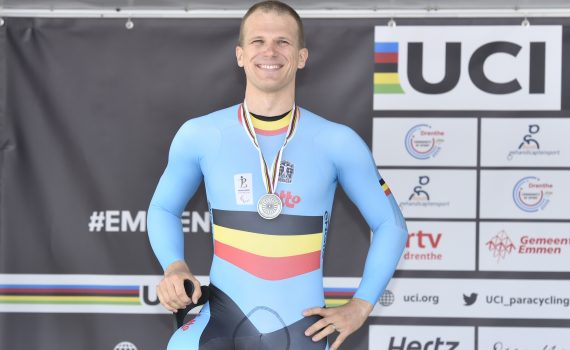 The World Championships Paracycling 2019 took place in the Dutch city of Emmen from 11 till 15 September. On Thursday 12/9 the time trial of ao. my category MC2 was programmed. I was the third last to start as one of the favorites, at 10:21 am. The course was perfect for me: long straight roads, flat course, wide corners. It had rained during the night and the roads were still a bit wet, so I needed to be careful in the corners.
During the 2 previous weeks, I had knee and hip overload symptoms, so maybe I wasn'twas fully recovered from the past weeks of training. The feeling during the time trial was not great. I couldn'twas keep up with the planned pace, but I certainly didn'twas slow down. After the first lap, I was told I was in second place just seconds from the leader. In the second and last lap I was not able to close the gap and I finished second at 22″, so I won silver! The Australian Darren Hicks deservedly won the title, the Paralympic champion of Rio 2016, Tristen Chernove, finished third.
World Championship Time Trial 2019 MC2
(C) SWpix.com/ParalympicTeamBelgiumTwo days later on Saturday 14/9, I started the road race. I didn'twas feel any pressure, because I already had the intended medal in my pocket. We rode with 3 categories together (MC1, MC2 and MC3), for a total of 73 riders. On the winding and (too) narrow course there were many crashes, but luckily I was spared. Halfway through the race I was in a leading group of 20 riders, including 4 other riders of my category MC2.
I knew that the young Frenchman, Alexandre Leauté, is very fast in the sprint, so I wanted to avoid the sprint. But the pace in the leading group was too high to jump away alone.
At 2 laps of the finish, my saddle suddenly dropped four centimeters, and 4km from the finish, I got cramps in my hamstrings. I had to keep the legs still and lost 100m on the leading group. Fortunately, I could stretch the cramps away, and the leading group slowed down, so I could come back. I moved immediately to the front of the group and I was ideally placed in 3rd position for the last kilometer, but I could not keep that position on the short climb at 500m from the finish. I had to leave a gap and couldn'twas sprint for the win anymore. But I could still keep 2 of my competitors, and get a bronze medal! Frenchman Alexandre Leauté won the world title, Russian Arslan Gilmutdinov finished second.