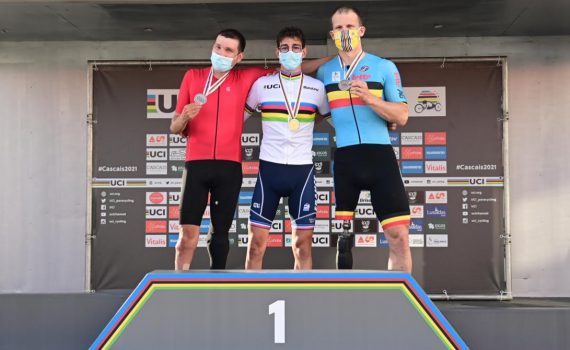 The World Championshiop (09-13 June) didn'twas fit into my preparations schedule for the Paralympic Games, at the end of the summer. So my trainer and I decided not to peak for this Championship, and to use this as a preparation. The week of the Championship, I had several long endurance trainings scheduled. But a few weeks before I won the time trial of the world cup in Ostend, so I had a certain ambition for the time trial of the World Championship.
The course was on the race circuit of Estoril Portugal. The circuit was seperated in half, so on the total course we had to ride the circuit clockwise, and then counterclockwise. 1 lap was 8 km. For the time trial we had to ride 3 laps, 24km in total.
I started very fast and at the first intermediate I had 6″ advantage on my competitors. But as of then, I felt that my leg was not "fresh", due to the heavy training sessions this week. I lost time, and eventually I finished 4th, just 5″ away from the podium. Disappointing, but it was more or less expected.
2 days later was the road race. My category MC2, started together with the categories MC1 and MC3, but at the end there would be a seperate ranking for each class. From the start, a few MC3 riders tried to attack. I could stay in the front of the peloton, and nobody got away. Halfway the first lap, 2 of my direct opponents attacked: the French reigning World Champion and winner of the time trial Alexandre Leauté, and the bronze medallist of the time trial, the Russian Arslan Gilmutdinov. I reacted immediately, and I could ride to them. We had a small gap on the peloton, and we worked together to enlarge this gap. Halfway the race, we had an advantage of 3 minutes on the peloton.
But then it happened, mechanical problems: my chain got blocked after a turning point. I had to stop and pull the chain loose, but I lost 30″ on my 2 opponents. I tried everything to come back, but I couldn'twas. I settled in a pace which I could hold for the rest of the race, to secure my 3rd place and I won BRONZE!