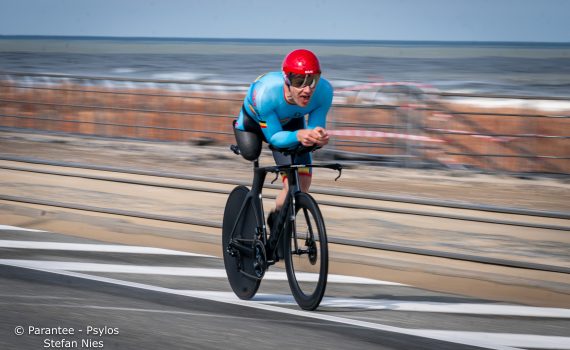 10/05/2021 – Return to competition
After more than 450 days, we could finally compete again! The 5th edition of the UCI  Worldcup in Ostend (Belgium) was scheduled from the 6th till the 9th of May 2021. With such a long a period without competition, I had lots of question marks about my form, but I was very motivated to show my best during this race in my home country.
As usual, the Worldcup starts with a time trial. It was the same course as the previous years: 10km, with a technical part and a long straight stretch back and forth along the coastline. In my category MC2, we had to take on 2 laps, so 20km in total.
The start of the time trial was on Friday at 9h51. I felt great from the start and I found immediately the right pace. At the first intermediate, I had 8″ on my main opponent, the Frenchmen Alexandre Leauté. I could steadily extend my lead, and with a strong last 5km (wind in the back), I finished with a average of 44km/h. I had to wait a few minutes for the finish of Leauté, but the happiness was great when I heard I won, with an advantage of 23″. Third place was for the Dutchmen André Wijnhoud.
2 days later, on Sunday, was the road race, on the same course as the time trial. With Tokyo coming closer, it was important to stay safe and to not be involved in an eventual crash. I stayed the whole race in the top 10 of the peloton, and tried to take on the technical part of the course in first position. I tried a few times to get away alone, but the French team kept it all together, and it turned into a sprint.
I was positioned well, but the French world champion Alexandre Leauté was too strong. He won, I was 2nd. 3rd place was for the Brit Matthew Robbertson.