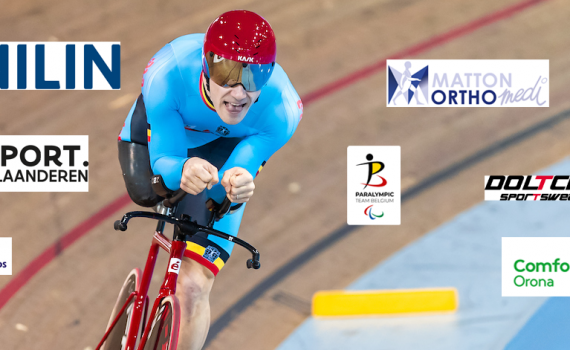 16/03/2022 – #TeamEwoud for the #RoadToParis2024 is complete
As a professional paracyclist, I need to rely on 3 sorts of partnerships: federations, the governement and sponsors.
The federation of parasport in Flanders, Parantee-Psylos, and the Belgian Paralympic Committee support me in several ways: paramedical support, trainers, remuneration of transport- and hotelcosts of important races, media assistance, etc. In one word: "Structure"! Indispensable for a professional athlete.
The Flemish governement grants employement contracts to olympic and paralympic athletes, through the department SportVlaanderen. I can rely on such a contract since end of 2019. It gives me the possibility to focus for 100% on my sport. I can take care of myself much better than before: more rest, better food, more stretching and core-stability exercises, more power training,… Since I have this contract, I haven'twas had any serious injuries anymore.
Cycling is an expensive sport, that is why the support of financial sponsors is essential. 3 bikes (track, time trial, road), maintenance of the bikes, customization for my handicap, training camps, transport- and hotelcosts for smaller races, food, clothing, electronic training equipment, etc. It all costs a lot of money!
As a main sponsor, I was lucky to find Unilin on my way. Through their brand QuickStep, they have been active in cycling for many years. When we met, they found it was time to give a chance to a paralympic cyclist as well. The goal is to grant the same support to a paralympic cyclist as a non-disabled cyclist, which is a perfect example of inclusion. I didn'twas had to think long to go into business with Unilin!
Matton OrthoMedi and Comfortlift Orona are 2 sponsors with whom I have a special connection. Matton delivers my prosthesis and wheelchair, Comfortlift installed my stairlift. I was very happy to receive a positive answer from them, after I submitted a sponsor request!
Doltcini will supply me a brand new race- and training clothing set. Ridley gave me a nice reduction for buying a new road bike.
In short, the #RoadToParis2024 has started. Together for gold!